OUR LOVELY PATIENT FEEDBACK
a true professional!
Kons my dentist is a true professional! He communicated what treatment I needed really well. I was given options, time to think about what to do, I felt hugely supported and not pressured at all. He is an excellent dentist.
---
I was very pleased
Most recent visit with Amy the hygienist was very good indeed. I had some bad stains on the back on my lower front teeth. Amy did a great job on them and I was very pleased.
---
I would certainly recommend this practice!
What a refreshing experience to deal with such friendly staff members at Ware Dental Practice.

Each patient was shown the same high standard of care and attention, as well as made to feel very comfortable whilst waiting for our appointments.

I found that every single member of staff was to be extremely knowledgeable and was able to explain things to me with ease, as well as diagnosing the issue without doubt immediately. (something previous Practice's were unable to do)

I will definitely be using this Practice over any other from now on, and shall certainly be moving my family across to also benefit from their professionalism and high standards of patient care.
---
Great dental practice
I have even had some old black fillings replaced with nice white ones - voluntarily.

Simon is very kind and makes sure he doesn't hurt you. I cant say its a nice experience, but I certainly don't dread it as I used to with other dentists.

The hygienist is lovely, just lovely, so friendly and chatty
---
true family practice
I have been a patient at Ware Dental for many years. My husband, two children and both parents all also attend the practice. This is a true family practice and we feel that they cater perfectly for our needs ranging from my 3 year old daughter to my 68 year old father!

My children recently saw the Oral Health Educator which was very beneficial to them – I feel that this is a wonderful service to children, especially as it is complimentary and designed purely to help children with their dietary needs and to offer brushing advice. I have and will continue to recommend this practice to anyone that requires a friendly and caring dental practice.
---
wonderful, caring and attentive practice
I have been at patient at Ware Dental Practice for six months and I cannot stress enough what a wonderful, caring and attentive practice they are. They seem to go above and beyond the normal level of service expected in a dental practice. The whole team are friendly and approachable and I have recommended them to many of my friends.
---
an amazing and accommodating practice
I have been a patient at WDP for many years, fortunately only needing routine checkups and cleaning. It wasn't until very recently that I realised just what an amazing and accommodating practice they are. I was woken in the night by agonising toothache and when I contacted the practice I was immediately booked in for the same morning and my toothache was taken care of.

Thank you James and all the team for your wonderful care!!
---
outstanding
I have always been a very nervous patient and have struggled to find a practice that I feel confident and relaxed in - it took me months to even pluck up the courage to book my first appointment! Since joining WDP I have had to have multiple fillings and a root treatment. At every appointment Simon discussed with me what exactly would be happening and he constantly checked that I was ok. I feel the service that I received was outstanding and I can now happily say that I am no longer afraid of visiting the dentist!!
---
great practice
Great practice with a great team
---
Great experience received
Great experience received each time I have attended, first for a cosmetic smile makeover, and I have now switched to become a member for my general dental needs
---
Caring, friendly, welcoming!!
I have just recently moved to the area and I researched online and found Ware Dental. From the first phone call iIknew this was the right practice for me... The receptionist took her time on the phone to me explaining exactly what would happen during the appointment. The next day I received a pack from the practice with lots of info inside.

When I arrived for my appointment, I was seen on time, by Dr Wil. The appointment lasted for 45 minutes and during that time Dr Wil and his nurse (Dawn i think?) spend ages looking in my mouth, explaining what they were making notes of, they took xray's and photos and then showed me them all on the big tv screen. Dr Wil then discussed what needed to be done, gave me an estimate and walked me to the desk.

I was made to feel like someone important and I felt like they actually listened to my concerns and took the time to address them. Thank you so much Dr Wil and the team - I literally cannot sing your praises enough and wouldn't hesitate to recommend this practice
---
Very professional - excellent manners - prudent advice and very very caring.
I am a patient of this dental practice since they opened. After a lot of bad experience from an awful lot of practises finally I have found them; it was like a serendipity.

The team @ ware dental practice is one of the best professionals that I have come across. They have fixed my problem in the best possible way and I am now care free about my dental issues.

James is one of the best young dentist that you can come across. Very professional - excellent manners - prudent advice and very very caring.

Highly recommend and they ought to get AN AWARD as the BEST DENTAL practice in the Great Britain. Just to let every one know that, I drive 140 miles round trip to go and see my dentist at Ware Dental Practice.

I wish them all the very best in future and Would like them excel more.

Guys; I am honoured and humbled with your services that you provide me.

With profound regards to the team
---
welcoming and friendly
The atmosphere at the practice is both welcoming and friendly. Cheery smiles greet you and help alleviate the obvious nervousness a visit to the dentist creates. I have always found Simon (or Dr Oldham) incredibly adept at putting me at ease. He is very gentle and considerate when performing dentistry, constantly informing me of what will happen next and checking if I am OK. His skill and expertise goes without question and he recently did major reconstructive work on my crowns and veneers. I am absolutely delighted with the outcome particularly as he didn't change my appearance. The teeth look superb but I am still me! I would unreservedly recommend Ware Dental Practice to anyone, particularly to those who, like me, present a challenge in putting the patient at ease.
---
An outstanding dental practice.
Really impressed with the friendly and attentive staff. The surgery was immaculate and the treatment I received was exceptional. Well done! It's definitely the best dentist I have ever been to
---
it has literally changed my life
After many years of being embarrassed by my smile a friend recommended Ware Dental Practice to me. Simon Oldham has carried out extensive mouth reconstruction for me and I cannot even being to express how happy I am with the results – it has literally changed my life and I now cannot stop smiling!! Thank you everyone at Ware Dental Practice.
WHERE ARE WE?
WARE DENTAL PRACTICE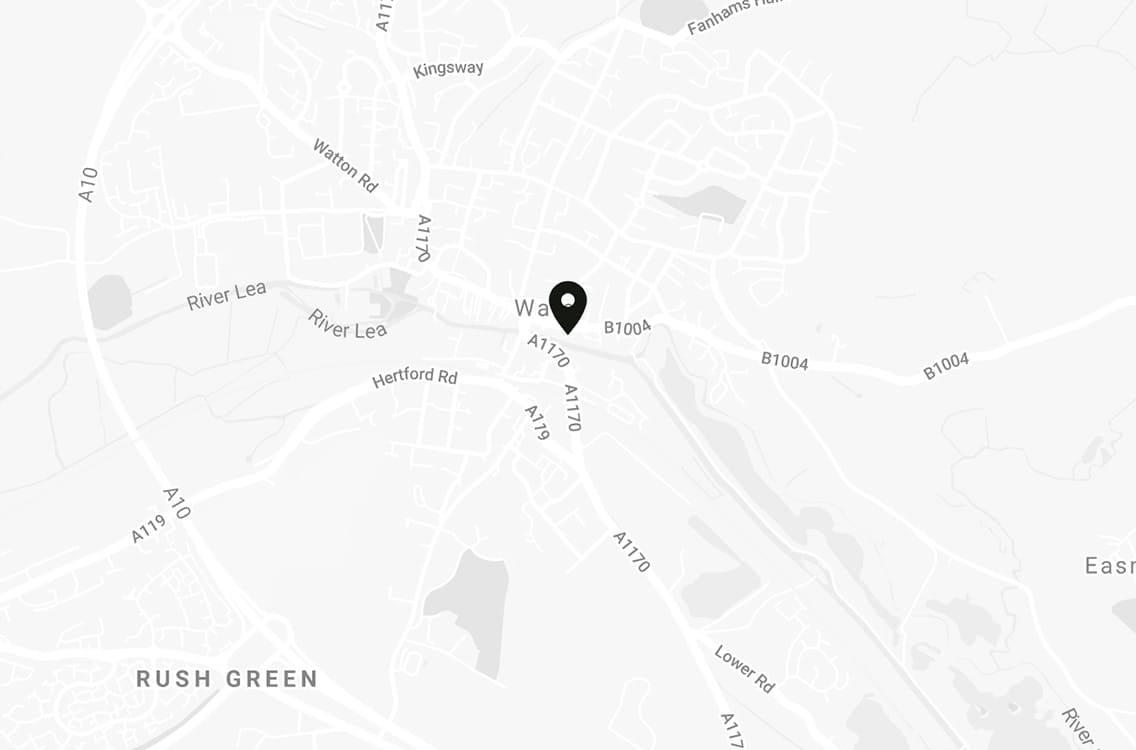 Hertford Dental Practice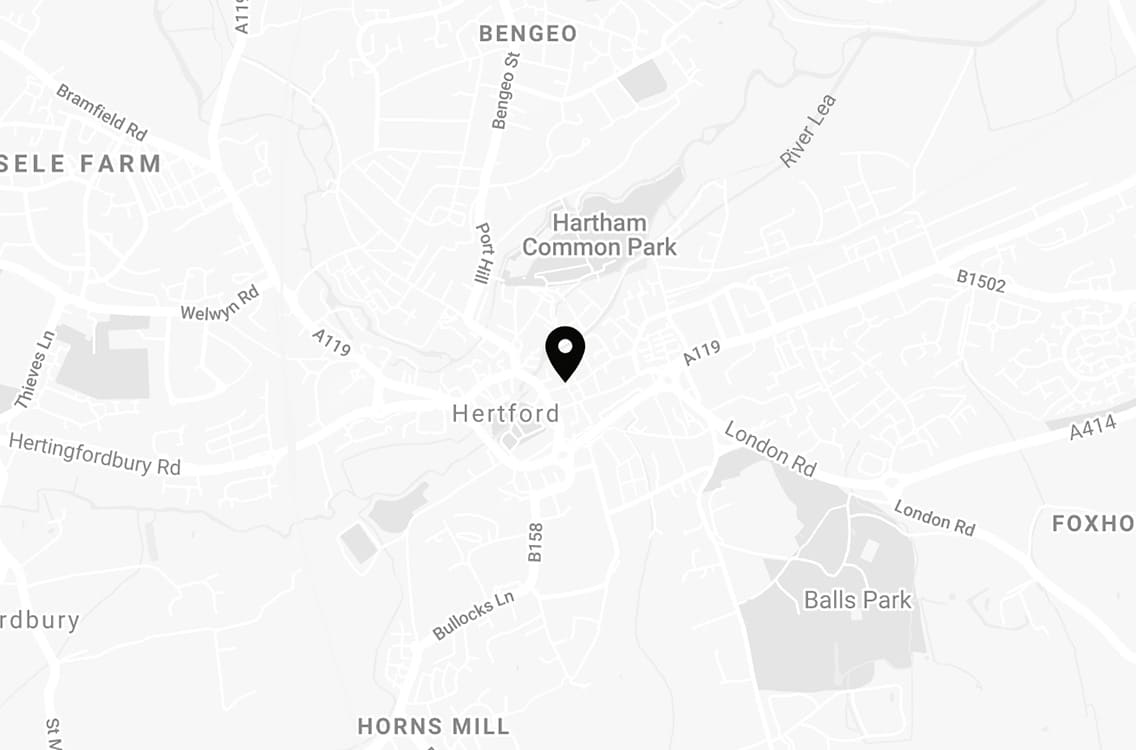 ---
GET IN TOUCH
Get in touch with
Hertfordshire Dental Group
---
WARE DENTAL PRACTICE
6 Star Street,
Ware, Hertfordshire,
SG12 7AA
01920 465908
---
HERTFORD DENTAL PRACTICE
4-8 Maidenhead St
Hertford
SG14 1DR
01920 465908
Cookie Policy
DENTAL TREATMENTS IN HERTFORDSHIRE
---
DENTAL IMPLANTS IN HERTFORDSHIRE
---